A Girl and Her Ski Mask | An Interview with a Book Blogger
Updated: Aug 15, 2022
Hi friends. I'm back, but I'm doing something a little differently again. I know, you're probably tired of me switching things up, but I have the attention span of a squirrel so I gotta keep things interesting. Usually, I do interviews with authors, but this time I wanted to do something from a different perspective. When I first tip-toed into the bookstagram world, all bright eyed and bushy tailed, I had no idea what I was doing. Let's be honest, I STILL have literally no idea what I'm doing.
Anyway, one of the pages I really enjoyed was a page called: Girl the with Pink Ski Mask. I found her page maybe the first week I was on bookstagram and her "no holds barred" type of reviews caught my attention. Plus, the ski mask was pure genius! If the book sucked, she wasn't afraid to let you know that and in turn, If the book was amazeballs, she'd recommend it to everyone on her page. I got a few dope recommendations from her feed. When I had no idea what to read next and the thought of looking at my growing TBR list gave me anxiety, I would always pick a book from her endorsements. When I publish my first book, I want her to read it. Even though I might be a little nervous because if she hates it, I'm probably going to need a stiff drink and a good cry.
Unfortunately, she is no longer on Instagram, but fear not! You can catch her on good reads here. Same unhinged realness, just in a different location. I wanted to get her perspective on some of the best and worst books, and hear whatever advice she had to offer to budding authors. I also wanted to get her opinion on the bookstagram world, even if she is technically no longer a part of it. So without further ado, let's get after it.
Sorry. Had to get that out of the way. Now let's REALLY get after it.
1. What made you want to start a bookstagram & what gave you the idea for the ski mask concept?
In January 2022 I started writing reviews on Goodreads and I loved the community but the interactions are very limited to the comment sections on reviews. I created a Bookstagram so I could interact more with others. The pink ski mask came about because I didn't want to show my face and use my name, but I wanted to create a unique persona that would be memorable. Enter my pink ski mask.
2. What is the best thing about bookstagram? What is the worst?
The best thing is meeting people from all over the world who love books just as much as me. I find the bookstagram community very welcoming even though I'm totally unhinged LOL. The worst thing? Tbh I don't have any gripes. It's just a fun place.
3. If you could name 3 books that describe you as a person, what 3 would they be and why?
Wow this is a tough one. I feel vulnerable answering this For my childhood: Now Is Everything by Amy Giles. For my young adult years: The Storytellers by Caron McKinlay. And as an "adult"... TBD.
4. If you could live inside any book, which one would it be and why?
I read books about murder and other nefarious crimes soooo I'm going to keep my ass in real life, thanks haha.
* Quick sidebar, I was thinking about my own answer to this question and frankly, I'd have to say same. Most of the time the books I read deal with some pretty dark subject matter and just in case you are wondering, I am scary in real life. Keep all that stuff away from me because I am NOT about that life, understood?
5. If you could be best friends with any book character, who would it be and why?
Oh, this is tough. There's many bad ass characters like Kim Stone from Angela Marsons' series, DI Jackie Cooke from Marnie Riches' series, any of the ladies in Good Husbands by Cate Ray (at the end of the book though... early Stephanie can kick rocks)... I could go on and on.
IYKYK. I don't know, though because I haven't read any of these. *adds to ridiculously long TBR*
6. If you could give advice to authors writing their first book, what would it be?
Hmm I don't think anyone should take my advice because I'm not a published author, but show DON'T tell. I cannot stand "closed caption ass writing." I don't need to know every detail if it's not pertinent to the plot.
7. Which book did you hate that everyone else loved? What made you hate it?
VERITY!!!!!! I don't like spicy books. And this was beyond spice. It was straight erotica. I can handle some nuanced spice. But at one point she legit wrote "he jizzed on my back." Who asked for this in a thriller? Strike one: None of the characters were likeable. Lowen? Boring and slow. The husband? Personality of a cardboard box. Verity? Doing the most for no reason. Strike two: closed caption ass writing galore. Strike three: the math did not math. I'm limiting myself to three strikes, but for the full unhinged rant, you can check out my full review on Goodreads.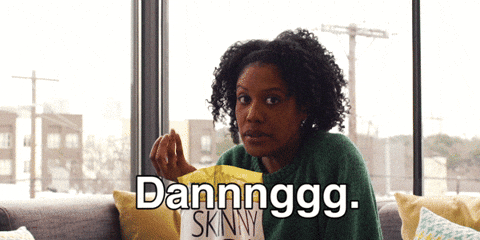 Sorry Colleen.
8. Top 5 favorite bookstagram that everyone should follow?
@rolandreviews (cute ass dog, plus she's funny af), @ohiobookgal (another cute ass dog and she keeps it 100), @stephturnsthepage (funny and aesthetic af), @hellokorio (more unhinged than myself), and @bookish_bichota (one of my OG bookstahoes, a total sweetheart, and a fellow #BoltonBish)
9. What book inspired your love of reading?
I've been reading for as long as I can remember. I grew up in a very strict household where TV was limited to 30 minutes a day so the rest of the day was spent reading. My favourite series growing up were the Magic Tree House and of course my girl Nancy Drew.
10. What is the one thing you want your followers to know about you?
Absolutely nothing. I'm wearing a mask for a reason But for real, I would say I'm not hyper-critical just for fun... My critiques are based on my years of professional writing experience. I am a dick about writing, but I'm paid to be IRL.
So! There you have it folks. You have some homework assignments to complete. Check out the books mentioned in this post, and follow the pages recommended in this post. Go. Do it now. And if you're looking to get involved in the bookstagram world, come join us! We'd love to have you. In the mean time,
Check out the reviews and the short stories on my blog. If you see anything you like, be sure to let me know. I'd love to hear your thoughts. All feedback is welcome. If you see a book that I've reviewed and you want to discuss is, please please please reach out! I'd love to hear from you.
Until then..
Happy Reading Babes! ❤